Contact Prince Martial Arts & Fitness Sports Complex
Prince Taekwondo Academy ~ Prince Su-Do Academy
Prince Yongmoodo Academy ~ Prince Self Defense Academy
Campus I : Farhan Shaheed Park, Adjacent Masjid Siddiq e Akbar, Block "i" North Nazaimabad Town, Opposite ShipOwners College, Adjacent Khyber Shinwari Restaurant, Near Five Star Chowrangi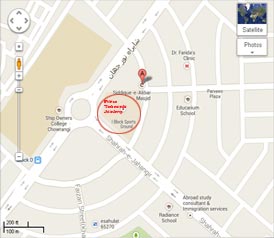 Email : info@farooqi.com
Cell #: 0333-2233701
Campus 2 : Prince Martial Arts & Fitness Sports Complex, AlNoor Gymnasium, Opp. Al-Noor Masjid, Al-Noor Park, Ali Street, Block "F" North Nazimabad Town. (Near Ziauddin Hospital)
Cell #: 0332 8238279 , 0333-2233701
AFFILIATED WITH :
Pakistan Taekwondo Federation, PTF
Sindh Taekwondo Association, STA
Taekwondo Karachi, TK
Pakistan Yongmoodo Federation, PYF
World Su-Do Karate Federation, WSF
Get directions from Google Maps Campus 1 Block i
Get directions from Google Maps Indoor Campus 2 Block F
Visit our club
PRINCE MARTIAL ART SCHOOL
Prince Martial Arts & Fitness Academy is affiliated with Sindh Taekwondo STA, Taekwondo Karachi TK and PTF. Prince Su-Do Academy is affiliated with World SuDo Federation and Pakistan Su-Do Federation. Prince Yongmoodo Academy is affiliated with Pakistan Yongmoodo Federation The young talented students of club won a lot of competitions on local and national level and shown the result of intensive training of club. The senior Black Belts visits frequently to give tips & techniques to students, which help them to improve their game.
Prince School of Martial Arts, the best Taekwondo Martial Arts club in Karachi, Close Quarter Combat, Martial Arts Weapons Training.